Artistic parquet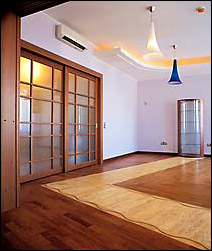 Artistic parquet is an art, mastery and mystery of the great craftsmen, who impart knowledge from father to son during the long years and as a result of this — centuries — old history. It is very hard to imagine the world without the creations of the famous architects and painters, carvers and cabinet-makers, who left us a great heritage.
A combination of different sorts of wood, included the exotic, and the formation of the sophisticated inlaid and fancy drawings from some types of based details lets put into practice the most intricate design ideas.
Artistic parquet offers an advantage; and thanks to its beauty, courtliness and all-sufficiency subdues any interior, remaining the original and attractive due to its splendor and natural texture.
Continuing to realize the best traditions of the artistic parquet, we guarantee the elegant beauty and the harmonious luxury to your house.
Artistic parquet structure
According to structure the shields consist of the foundation and the upper exterior covering. The foundation looks like two-ply shield, agglutinated with strips of conifers sort with the mutually perpendicular disposition of the fibers. The width of the foundation is 25 mm.
The planks of the exterior covering create the drawing of the artistic parquet and they are made of the hard sort of wood: oak, beech, mahogany, maple, ash-tree, hornbeam, starved oak and others. The width of the exterior covering is 15 mm.
Shield sizes: 600×40 mm, 400×400×40 mm or 400×400×22 mm.
Edges of the parquet shields have grooves, used for fastening the shields with each other by means of pins, or the quarters for fastening the shields to the floor. Besides artistic parquet shields, wall frieze shields are also made for the infilling floor picture along the wall.
Artistic parquet samples
Artistic parquet: SAP-12

Size

600×600×40mm, 400×400×40mm, 400×400×22mm

Material

oak, birch, mahogany

Selling price throughout Ukraine

Define more exactly in sales department
Artistic parquet: SAP-18

Size

600×600×40mm, 400×400×40mm, 400×400×22mm

Material

oak, birch, mahogany

Selling price throughout Ukraine

Define more exactly in sales department
Artistic parquet: SAP-27

Size

600×600×40mm, 400×400×40mm, 400×400×22mm

Material

oak, birch, mahogany

Selling price throughout Ukraine

Define more exactly in sales department
Artistic parquet: SAP-28

Size

600×600×40mm, 400×400×40mm, 400×400×22mm

Material

oak, birch, mahogany

Selling price throughout Ukraine

Define more exactly in sales department
Artistic parquet: SAP-34

Size

600×600×40mm, 400×400×40mm, 400×400×22mm

Material

oak or ash

Selling price throughout Ukraine

Define more exactly in sales department
Artistic parquet: SAP-36

Size

600×600×40mm, 400×400×40mm, 400×400×22mm

Material

oak, birch

Selling price throughout Ukraine

Define more exactly in sales department
Artistic parquet: SAP-46

Size

600×600×40mm, 400×400×40mm, 400×400×22mm

Material

oak, birch

Selling price throughout Ukraine

Define more exactly in sales department
Artistic parquet: SAP-55

Size

600×600×40mm, 400×400×40mm, 400×400×22mm

Material

oak, birch, mahogany

Selling price throughout Ukraine

Define more exactly in sales department
Artistic parquet: SAP-73

Size

600×600×40mm, 400×400×40mm, 400×400×22mm

Material

oak, birch, mahogany

Selling price throughout Ukraine

Define more exactly in sales department
Artistic parquet: SAP-121

Size

600×600×40mm, 400×400×40mm, 400×400×22mm

Material

oak, birch

Selling price throughout Ukraine

Define more exactly in sales department
Artistic parquet: SAP-265

Size

600×600×40mm, 400×400×40mm, 400×400×22mm

Material

oak, birch, mahogany

Selling price throughout Ukraine

Define more exactly in sales department
Artistic parquet: SAP-292

Size

600×600×40mm, 400×400×40mm, 400×400×22mm

Material

oak, birch

Selling price throughout Ukraine

Define more exactly in sales department
Artistic parquet: SAP-298

Size

600×600×40mm, 400×400×40mm, 400×400×22mm

Material

oak, birch

Selling price throughout Ukraine

Define more exactly in sales department
Artistic parquet: SAP-304

Size

600×600×40mm, 400×400×40mm, 400×400×22mm

Material

oak, birch, mahogany

Selling price throughout Ukraine

Define more exactly in sales department
Artistic parquet: SAP-305

Size

600×600×40mm, 400×400×40mm, 400×400×22mm

Material

oak, birch

Selling price throughout Ukraine

Define more exactly in sales department
Artistic parquet: SAP-307

Size

600×600×40mm, 400×400×40mm, 400×400×22mm

Material

oak, birch, mahogany

Selling price throughout Ukraine

Define more exactly in sales department