Rosace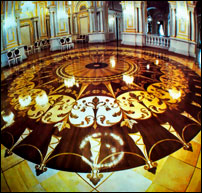 Rosace is one of the widest spread decorative elements of the artistic parquet. Mostly, this is a multicolored drawing of the rounded or another form. Rosace, as a rule, is a center of the parquet composition. The drawing of the rosace may be as very difficult so very simple. The rosace contains from 2 to 15 sorts of wood.
One of the favorite inner and outer decoration adorning — a rosace–locket is universal in its way, because it is used in the composition of the decorated floor, filling the background space.
Bearing the notional load, in its capacity of addition, rosace–locket lets pay attention to the complex, many — colored surface, thus letting examine the idea from different angles. Being the only background infill, given type of decoration acquires a great notional load, becoming a dominant during the floor decoration.
The outer look of rosace–lockets is multifarious and vast — round, oval, rectangular and multangular rosaces can have any infill more often geometric, or any picture can be inserted in that contour. Exotic, but realizable pictures in the rosaces are considered to be logotypes, arms, trade marks, animals and even portraits. Using rosace — is like connection between aesthetics of the floor and common architectural style in interior decoration. It gives an opportunity to keep to certain drawing of the dome light or modeling, or to mark the connection between three main directions of wood in the building: floors, door, and furniture.
The location of the rosace can be manifold, it can be situated in the center of the building, bearing the functional load of the main zone, or be taken out in any its part, correcting the complicated parts of the building and putting an accent to the most interesting parts.
We always remember that any rosace reflects creative tastes and style predilection of the customer, bringing in the interior his favorite symbols and originality.
Rosace samples
Rosace-locket: R-01

Size

one and a half meter in deameter

Material

oak, birch, mahogany

Selling price throughout Ukraine

Define more exactly in sales department
Rosace-locket: R-02

Size

1200 mm × 1200 mm

Material

oak, beerch, maple, ash, merbau

Selling price throughout Ukraine

Define more exactly in sales department