Deal board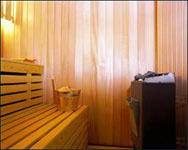 Deal board of firry wood is made of eastern, slowly expanded fir. It is used for bordering walls and ceiling. Thanks to the slow growth, wood becomes very thick and strong; consequently it resists the humidity and warmth. It has strong twigs, which make the surface more natural. There can appear gum pockets on the surface, but fir tree doesn't exude much tar. Color of the wood is very light. With the age, it is slightly darkened..
Piny deal board is made of pure pinewood planks. They are sawed and polished of the big and straight low trimmed parts of piny wood boards. In such a way, we get a plank with minimum twigs of the best quality. The pinewood has a pinkish tint, sometimes patina comes out when using it — an individual pattern. With time, the wood darkens, acquiring the beautiful tint. The pine-tree slightly smells resin, the smell of which reminds the fresh coniferous forest.
Deal board of foliferous wood is used for the avoidance of the tar. Alder — tree and some other foliferous trees give the best fit for battening the walls of sauna, as they have smaller thickness. The higher the thickness, the stronger the wood gets warm. The alder –tree and lime — tree are power donors, that is why the deal board of this wood is so popular for battening the walls. In time, the deal board, made of foliferous wood, darkens and needs an additional processing.
Deal board samples
DB-Ash

Size

Thickness 15 mm, width 65 mm, length from 50 centimeters to 2 meters

Material

ash

Selling price throughout Ukraine

Define more exactly in sales department
DB-Alder

Size

Thickness 15 mm, width 65 mm, length from 50 centimeters to 2 meters

Material

alder

Selling price throughout Ukraine

Define more exactly in sales department
DB-Asp

Size

Thickness 15 mm, width 65 mm, length from 50 centimeters to 2 meters

Material

asp

Selling price throughout Ukraine

Define more exactly in sales department
DB-Pine

Size

Thickness 15 mm, width 65 mm, length from 50 centimeters to 2 meters

Material

pine

Selling price throughout Ukraine

Define more exactly in sales department